Wedding Information
Location: The ceremony is being held at the Old South Church located at 645 Boylston St. Boston, Massachusetts. The reception is being held at the Fairmont Copley Plaza located at 138 St. James Avenue, Boston, Massachusetts.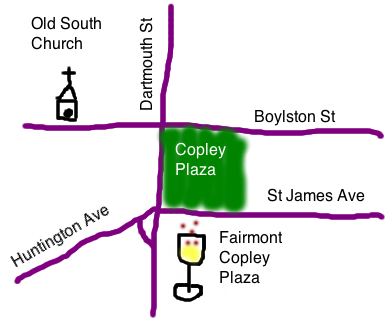 (Ok here is a nice map. Charles drew both of them.)
Date and Time: The ceremony will be on May 8, 2011. Please plan to arrive and be seated by 2:45 PM. The reception will follow starting at 5:00 PM.
Registry: Our registry comprises the following items:
You coming to our wedding—the best gift possible!
Anything related to an inside joke between you and us
Anything handmade by you
Anything in the form of a stuffed small farm animal (these are for Jenny)
Anything else
The last item is subject to the following conditions:
If it has a circuit board, Charles might have it already
We will probably be moving in the near future
Between the two of us, we have plenty of stemware, tableware, and kitchen appliances
Our closets will not fit any more items of clothing
If nothing else leaps out at you, we would also greatly appreciate gift cards, 紅包, a bottle of a 2001 Chateau d'Yquem wine, or a wheel of this cheese. (Please contact us first about the last item; we can't eat more than one.) UPDATE: The cheese has been claimed!