The final BBQ!
This was the last BBQ joint of my trip.
I wasn't even planning on having barbecue this day. I was on the way out of Knoxville, and decided to stop by the East Tennessee Discovery Center. Boy, that was a disappointment. It was basically one room, with about as many exhibits as a middle school science classroom. Half of the stuff looked like it was falling apart.
Anyway, on my way out I figured it was about time for lunch. So I jump on Yelp, and discover that there is nothing in eastern Knoxville. Nothing.
After about ten minutes of searching around, I finally came across some good reviews for a place called the Smoke Box. It was only a few blocks away, so I headed over to try it out.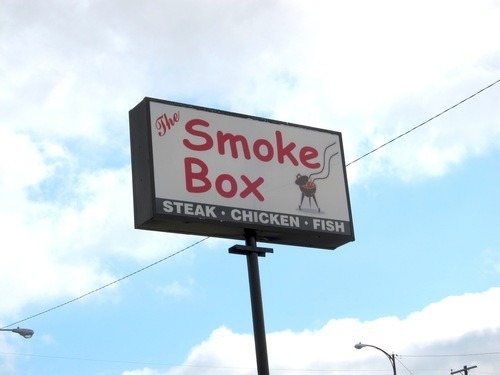 So I drive in, park the car in the lot in the back, and head over to sit inside. Then I realized it was a drive through.
The woman there, clearly amused that I had just walked up to a drive-through, took my order with me standing in the driveway. I sat down at one of the two tables out in front.
They had two tables out in front! How was I supposed to know there was nothing inside?
A few minutes later she walked out with a take-out box. In case I haven't mentioned this already, by the way, every single BBQ and fried chicken place I ate at gave me disposable plates and utensils, with the exception of Pig on Beale (though they still used plastic cups). This was nice, in a way, since I could either eat in or take it to go whenever I wanted.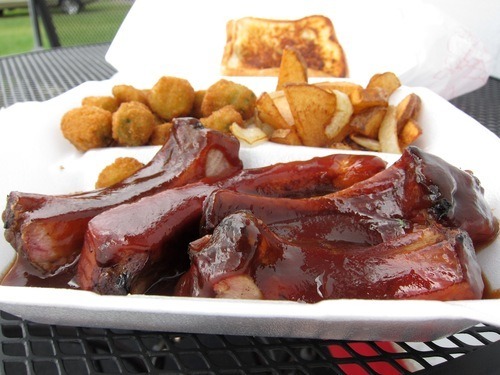 The ribs were drenched in sauce, a bit much for my taste, but that was easy enough to scrape off. The meat itself, though, had a surprisingly nice smoky flavor, and they were balanced perfectly between chewiness and tenderness.
What impressed me most about this place, though, were the sides. I got the fried okra and potatoes.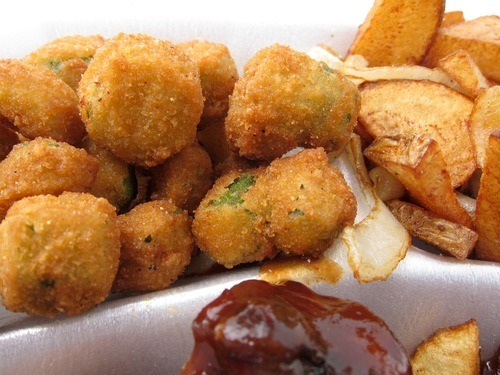 Every other place I'd eaten at had the sides pre-made, so they were just dished out at the time of serving. These, however, tasted like they had been freshly cooked to order, particularly the okra.
Additionally, this place was the only one that did anything interesting with the bread: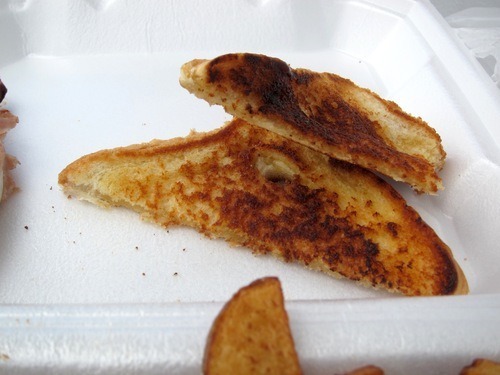 Not bad for a BBQ place smaller than my bedroom!